I am promptly looking into swimming classes for my little one so that we can enjoy summer without a struggle. Especially with my belly in tow! I researched price, locations and other information about the following places that have great reviews for baby swimming classes in Miami.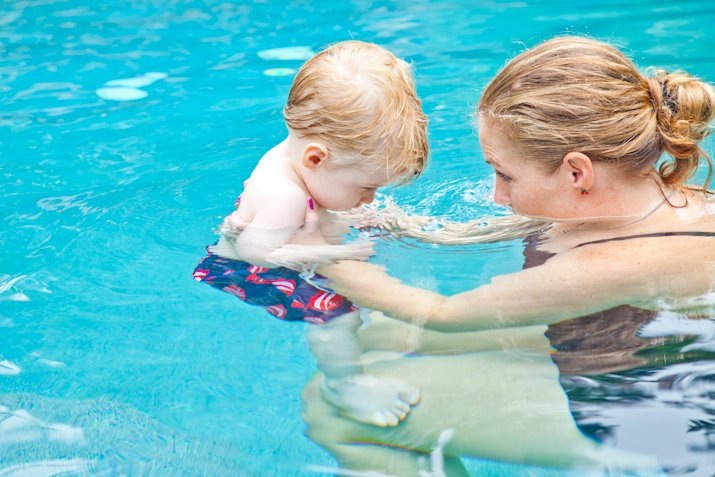 Program: The Safe Swimming School Program is back based, which means that we teach floating, water safety, and roll over breathing method to our beginner swimmers.  We teach a similar method to ISR for infants and babies, which is a self-rescue technique to prevent drowning.
Cost: Prices are based on a 30 minute, private swim lesson.  Swim Classes are taught Monday through Sunday from 9am-7pm.  Payment is due in full before class.  Swim Lessons and packages may be shared. 12 Swim Lessons: $600
Location: Swimming Lessons in South Florida Home Pool swim classes are taught at your home or community pool.
Program: There are 4 levels of baby groups here. An adult family member accompanies the child in the pool for the first 3 baby levels. This gives parents the opportunity to become comfortable with their child in the water and learn skills they can practice at home. Classes are 30 minutes long with 6 parent/child couples in each class.
Cost: Monthly Tuition Tuition is $79 to swim once per week. This fee is based on 4 classes per month. If you prefer not to become a member, then you may purchase a package of 12 group swimming classes for $237. Swimmers may swim as many times per week as they would like depending on availability.
Location(s): West Kendall 13408 SW 131 Street, Miami/ Tropical 4950 SW 75 Ave, Miami Northwest 10502 NW 134 Street, Hialeah Gardens
Program: ISR (Infant Swimming Resource) Lessons are available to infants and young children 6 months- 4 years old. These safe and effective lessons are customized to your child and taught one on one. They do not offer group lessons. Your child's lesson experience will be unique and to provide the safest possible lesson, the instructor's attention will be focused on your baby only throughout the lesson period. Lessons are no more than 10 minutes a day only 8:00 AM-11:00 AM, 5 days a week, Monday through Friday. In order to master these self-rescue skills, the enrollment period is between 4 and 6 weeks. To register for the ISR program contact Stephanie Acosta Balzola by clicking here.
Location: ISR Lifesavers is only available at the following location: University of Miami Main Campus Outdoor Pool on Stanford Circle 1306 Stanford Drive (Student Union Building) Coral Gables, FL 33133
Cost: ISR lessons through Hurricane Aquatics will be $125 per week for roughly 4-6 weeks. Refresher lessons will be $100 per week. Multiple Siblings are $100 per week per child.
Program: Initial Program: 6 week session Monday through Friday. 10-11 Months: Infants are taught to roll over from a face down position in to a back float in order to achieve a stable position where they can breathe. They are also able to be passed back and forth helping to establish a head down swimming position. 12 Months and Up This age group will be taught a Swim-Float-Swim sequence. They will learn an efficient way to propel themselves from one place to another by being able to swim head down with their eyes open, roll to their backs and breathe, and depending on their confidence and skill level roll back over to continue swimming.
Cost:
Location: 16604 NE 2nd Ave, North Miami Beach, FL 33162
//platform.instagram.com/en_US/embeds.js