My little one is going through some major growth spurts and it seems like it happens overnight!
Although not completely true as this "baby growth illusion" study suggests, we do know that "sleep is very much related to growth and can predict when a young infant will have a growth spurt. Researchers have long known that growth hormone is released after we fall asleep." Wendy Hunter, M.D on babyscience.info
Welp, a new round of pajamas is in order before he can't wear what he has now.
Here are a few selections of pajamas that meet my personal (and my sons) criteria. We're a minimalist family and we don't want clutter or things that look like clutter, aka piñata-bright-as-hell-looking things 😆 We settle for neutral colors and simple patterns.
Additionally we've made the decision on buying organic (meaning pesticide free) for our skin and health's sake and buying fair-trade for the sake of other hard-working families in other parts of the world.
We don't support cheap, fast fashion brands. So this narrows it down to just a few awesome brands and although it does come a bit pricier it is worth it because we're buying quality. Also, we're minimalists and we don't need more than a couple of pjs.
Here's what we've found 😍:
1.
2.
3.
4.
5.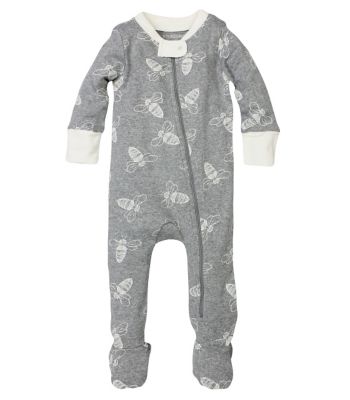 Bee Sleeper by Burts Bees Baby $18.95
6.